Weather

Today: Sunny weather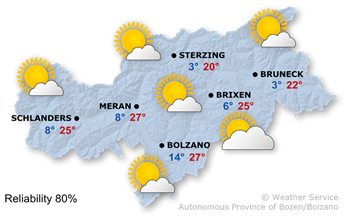 Sunny weather with some cumuliform clouds during the afternoon. The probability of thunderstorms will increase lightly on the southern regions in the evening. Top temperatures between 18° and 27°.
---
Tomorrow: Cloudy and some showers
The day is mostly cloudy and the sun shines only occasionally. In the course of the day, especially in the afternoon and evening, one must expect some rain showers. Thunderstorms are also possible. Maximum values decrease and range from 13° to 22°.
---
Sunday friendly, afterwards unstable